Welcome Aboard!!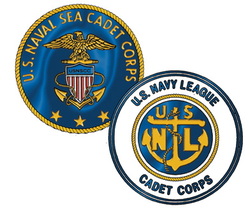 United States Naval Sea Cadet Corps (USNSCC)
The Naval Sea Cadet Corps (NSCC) is for American youth ages 11-17 who have a desire to learn about the Navy, Marine Corps, Coast Guard and Merchant Marine. Sea Cadets are authorized by the Secretary of the Navy to wear Navy uniforms appropriately marked with the Sea Cadet Corps insignia. The objectives of the Sea Cadet program are to introduce youth to naval life, to develop in them a sense of pride, patriotism, courage, and self-reliance, and to maintain an environment free of drugs and gangs.
Refer to the National Sea Cadets website for more information:
www.seacadets.org
Our Cadets
We are located in Central Florida and our cadets come from Orange, Seminole, Lake, and Volusia counties. Cadets normally meet for drill one Saturday and Sunday each month during the school year. We generally meet at the American Legion Post 112 , 4490 North Goldenrod Road, Winter Park, FL 32792, but we do meet at other locations for special events. Cadets also participate in one or two week trainings during the summer months that may occur on an active military base.
The Centurion Battalion is the recipient of the 2012 John J. Bergen Trophy for being the most outstanding NSCC Unit in the Nation.
If you are interested, please see our
JOIN
page for more information.
I look forward to hearing from you.
Very Respectfully,
LTJG Billy G. Dover, Jr., USNSCC
Commanding Officer, Centurion Battalion
co@centurionbattalion.org
Tax Deductible Donations can be made out to:
Centurion Battalion, NSCC
Mailing Address:
4490 North Goldenrod Road, Winter Park, FL 32792
---